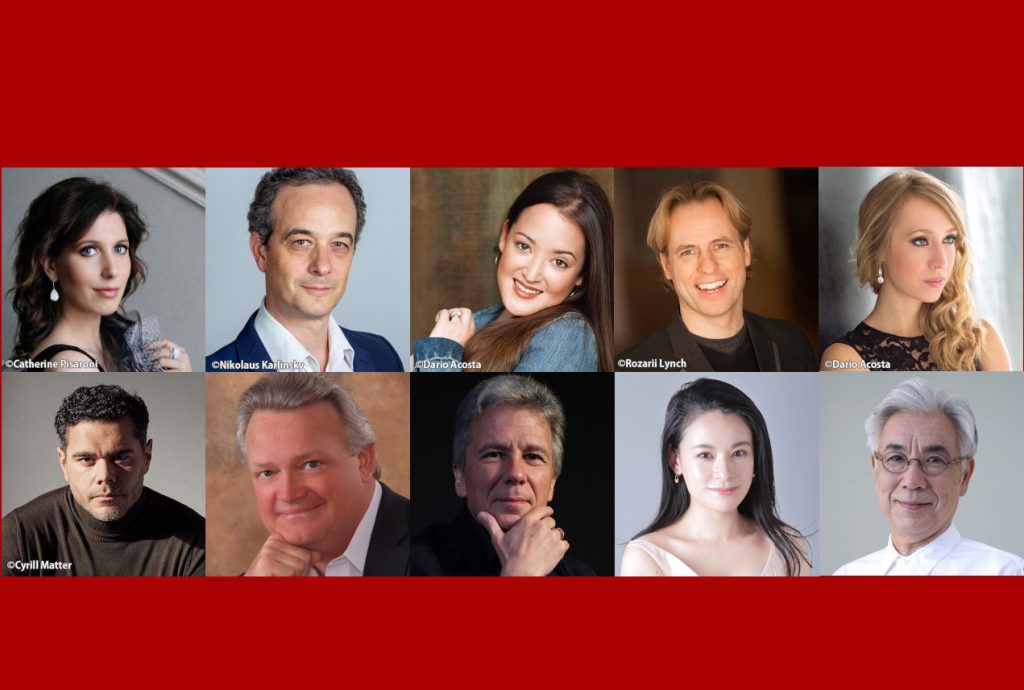 Seiji Ozawa Music Academy Opera Project XVIII Announcement of Cast and Ticket Information
We are pleased to announce the cast and ticket information for the Seiji Ozawa Music Academy Opera Project XVIII, which will be held March 2022 in the cities of Kyoto, Tokyo, and Yokosuka.
Due to the impact of COVID-19, this will be the first time in three years that Seiji Ozawa Music Academy Opera Project performances will be held. The program will be Johann Strauss II: Die Fledermaus, an operetta that was performed to great accolades in 2016 also at the ROHM Theatre Kyoto, which had just been reopened after renovations. We will deliver this cheery, light-hearted operetta masterpiece that can sweep away the dark mood of the era.
Venezuelan Diego Matheuz, who has conducted the Saito Kinen Orchestra four times to date and is greatly trusted by Academy Director Seiji Ozawa, will take the baton. As a graduate of the El Sistema program that fosters young musicians, Matheuz deeply identifies with the concept of the Seiji Ozawa Music Academy, which Ozawa has continued since 2000 and commented, "I am greatly looking forward to participating in the Music Academy for the first time." While he has conducted at many opera houses including Deutsche Oper Berlin, Staatsoper Berlin, the Liceu (Barcelona), and Teatro la Fenice (Venice), this will be his first time to conduct an opera in Japan.
Alongside Matheuz, top-tier musicians who perform internationally in the Saito Kinen Orchestra and others will train musicians in their 10s and 20s who were chosen by audition to form the Seiji Ozawa Music Academy Orchestra. Together with Academy Director Ozawa, they will enthusiastically teach these young musicians who are anticipated to lead the future music world.
The talented cast includes: Adrian Eröd, who will return as protagonist Gabriel von Eisenstein after his witty portrayal was lauded in 2016; Ellie Dehn, who has performed at the Metropolitan Opera, Teatro alla Scala (Milan), Royal Opera House (UK), and San Francisco Opera, as Rosalinde;Anna Christy as Adele; and Emily Fons as Prince Orlofsky. Jean-Paul Fouchécourt and Dale Travis, who have deep ties with Seiji Ozawa, will play supporting roles to round out this spectacular production.
Prison guard Frosch, who appears in Act 3, will be played by Issey Ogata, a star actor of the theatrical world in Japan. This will be Ogata's much-awaited appearance, as Academy Director Ozawa has been a huge fan since first seeing his one-man play with his daughter Seira, who was a college student at the time (currently Assisting Director of the Seiji Ozawa Music Academy). Ozawa later engaged Ogata as narrator for Saint-Saëns's Le carnaval des animaux, and they have been friendly since.
Direction will be provided by David Kneuss who has recently completed his tenure at the Metropolitan Opera where he served as Executive Stage Director for 25 years. Kneuss has been involved in Music Academy productions from its first year.
Performances will be in three cities—Kyoto, which is also the center of production, Tokyo, and Yokosuka. At ROHM Theatre Kyoto, we will also present the Opera for Children for elementary school students in Kyoto (no charge; closed to the public). Tickets will be on sale from Saturday, January 22, 2022. U25 tickets will also be available.
Please see program page for production and tickets details.