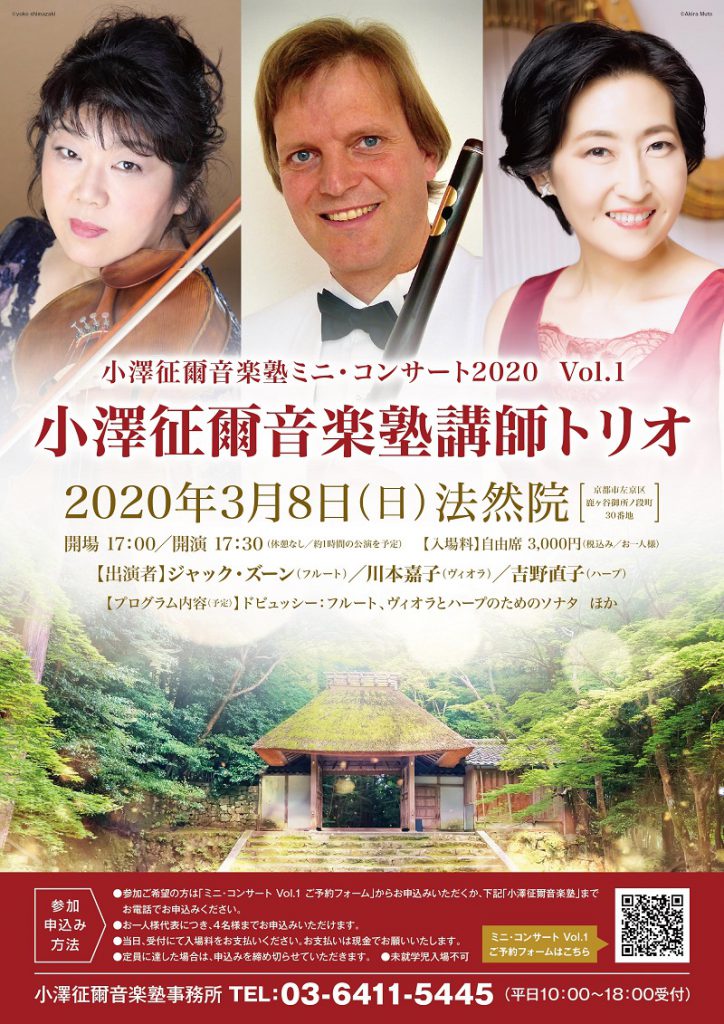 Seiji Ozawa Music Academy Mini Concert 2020 Vol.1 Seiji Ozawa Music Academy Sensei Trio Concert at Honen-in!
Every year Seiji Ozawa Music Academy presents mini-concerts in Kyoto to showcase the musicians of our Opera Project. This year we are happy to announce that we will present 5 such concerts at various locations in Kyoto City.
Jacques Zoon (Flute), Yoshiko Kawamoto (Viola) and Naoko Yoshino (Harp); all Saito Kinen Orchestra members and Seiji Ozawa Music Academy Orchestra Sensei (teachers) will present a trio performance at one of the most beautiful temples in Kyoto, Honen-in.
The program will contain, trio, duet and solo performances of works by Claude Debussy, whose musical ideas were influenced by music of Japan.
This will be the first time for the Academy to present a mini-concert by our Sensei and it promises to be a most extraordinary musical event.
In addition to this special concert, the Academy will present three more concerts in March by members of the Academy Orchestra and singers.The venues are Kitano-Tenmangu, The National Museum of Modern Art Kyoto, and Kyoto Hotel Okura and ROHM Theatre Kyoto Lobby .  Details of these mini-concerts will be announced shorty.
【SEIJI OZAWA MUSIC ACADEMY Mini-Concert 2020 Vol.1】
Date:March 8th (Sun) 2020
Door Open:17:00 Start: 17:30 (No intermission. About 1 hour program)
Venue:Honen-in Temple  (法然院/ 30, Shishigatani Gosho no Dancho, Sakyo-ku, Kyoto)
Artists:Jacques Zoon (Flute),  Yoshiko Kawamoto (Viola), Naoko Yoshino (Harp)
Admission: 3,000 yen (tax included/ for one person)
<<How to reserve>>
*Please fill in the reservation form here or call Veroza Japan for reservation.
*One person can reserve up to 4 people.
*Please pay by cash at the entrance of venue on the day of the performance.
*Pre-school children are not admitted.
*The form will close when reservation is full.
For Inquiries: Veroza Japan TEL:03-6411-5445 (Weekday/10:00-18:00)