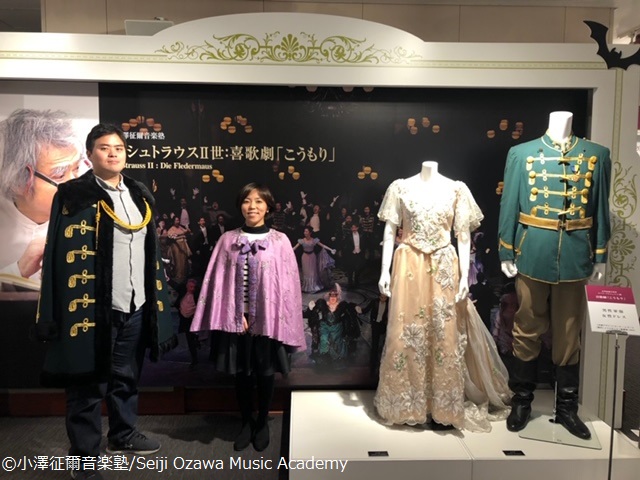 Seiji Ozawa Music Academy Exhibition 2020 Part 2 OPEN!
 ROHM theatre Music Salon coloses form March 13(fri) till May 31(sun).
We are sorry to anounce Seiji Ozawa Music Academy Exhibition 2020 also closes according to this.
We are happy to announce the second part of the Seiji Ozawa Music Academy Exhibition 2020 has opened. Since 2016, Kyoto City Music Arts and Culture Promotion Foundation and Rohm Music Foundation have been hosting special exhibitions of the Academy and its productions. To mark our 20th anniversary year in 2020, we exhibit valuable documents and costumes from "Die Fledermous" and other previous productions, as well as some personal items of the artistic director of the Academy, Seiji Ozawa.
At the 2nd part, Visitors are able to try-on "Die Fledermaus" costumes; Jacket for men and cape for women, and take pictures in front of a big photo panel showing "Die Fledermaus" ball scene.
Exhibition Part 2 has just opened on Jan 28 (Tue) at ROHM Theatre 3rd floor "Music Salon".
The exhibition will be a fun event for opera fans as well as for people who are new to opera and our productions.
---
【SEIJI OZAWA MUSIC ACADEMY EXHIBITION 2020】
Part 1: December 10, 2019 (Tue) – January 23, 2020 (Thu) *closed
Part 2: January 28, 2020 (Tue) – March 25, 2020 (Tue)*closed
Venue: ROHM Theatre Kyoto Music Salon (Park Plaza 3rd floor)
Opening hours: 10:00 – 19:00 *Entrance Free
*The venue is closed on theatre maintenance days and closing days.
*2000 to 2020 Seiji Ozawa Music Academy Posters will be exhibited at 1st floor promenade.
Part 1 :
– Costumes and properties used in Seiji Ozawa Music Academy Opera Project XVIII J. Strauss II: "Die Fledermaus".
– Seiji Ozawa's  "Die Fledermaus" score (copy)
– Original drawing of "Die Fledermaus" set design written from 1986 for Metropolitan Opera.
and more
Part 2: 
– "Die Fledermaus" costumes try-on corner. Jacket for men and cape for women are available. You can also take pictures in front of a big photo panel showing "Die Fledermaus" ball scene.
– Wardrobe of Seiji Ozawa
– History of Seiji Ozawa Music Academy
and more