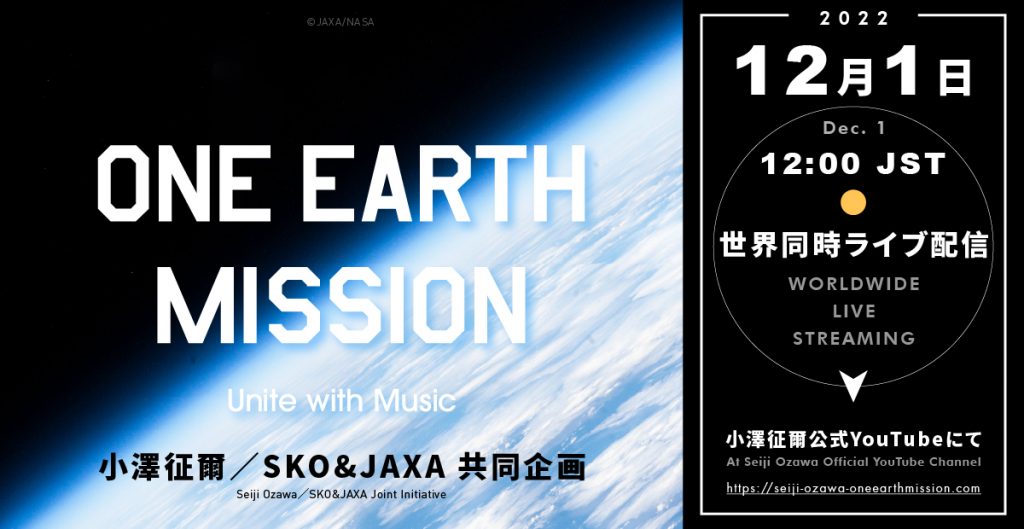 In a historic first, Seiji Ozawa and the Saito Kinen Orchestra deliver an orchestra performance to outer space with JAXA
On Wednesday, November 23 at 6:30 PM at Kissei Bunka Hall (Nagano-ken Matsumoto Bunka Kaikan), Seiji Ozawa conducted the Saito Kinen Orchestra (SKO) for the first time in four years to deliver a live stream of Beethoven's "Egmont" Overture to astronaut Koichi Wakata, who is currently on a mission at the International Space Station (ISS) "Kibo." This is the first time in history for an orchestra performance to be delivered live to space!
This music performance is part of the "One Earth Mission – Unite with Music" joint initiative planned by Seiji Ozawa / SKO with the Japan Aerospace Exploration Agency (JAXA). With the raging novel coronavirus that has spread around the world, and the chaos, suffering, and sadness from the war in Europe, this initiative was launched to deliver a message to the world that as we face this difficult era, now is not the time for division; now is the time to help and cooperate with each other as fellow citizens of Earth.
"Language, borders, culture, age, and gender are irrelevant in sensing that music is beautiful and joyous." This is the belief of Seiji Ozawa, who has been active for over 50 years internationally on the front lines in cities such as Tokyo, Matsumoto, Vienna, Berlin, Paris, Milan, London, Toronto, Chicago, Boston, and New York.
The Japan Aerospace Exploration Agency (JAXA) also transcends countries and ethnicities, aiming to pursue and integrate cutting-edge scientific technologies for the advancement of humankind. There are no national borders in outer space. JAXA continues to take on life-risking challenges while coordinating with astronauts from different countries.
This year, JAXA marks its 30th anniversary since Mamori Mohri became the first Japanese astronaut to go on a space mission. The Seiji Ozawa Matsumoto Festival, which is the home of the Saito Kinen Orchestra, also marks its 30th anniversary this year. In this special year, 87-year-old Seiji Ozawa performed music with the SKO, which could be referred to as his musical family that has a strong, pure connection in the deepest way to him, and this reached astronaut Koichi Wakata at ISS to resonate in outer space. Music transcends all barriers—gender, age, ethnicity, and borders—to connect the hearts of people, and provides us with a moment to remember that we are fellow residents who live on the same planet.
The live-recorded footage of this concert will be streamed simultaneously worldwide from 12 noon December 1 (JST) on the Seiji Ozawa official YouTube channel. We invite everyone to join us in experiencing this special time of being connected to space.
---
One Earth Mission – Unite with Music
Seiji Ozawa / SKO x JAXA Joint Initiative
See official website for more about One Earth Mission – Unite with Music
https://www.seiji-ozawa-oneearthmission.com/
Stream Start: December 1 (Thursday), 12 noon (JST)
Stream link: https://www.youtube.com/@seijiozawa_official
---
Director Seiji Ozawa's socials are ready! Please follow.
YouTube https://www.youtube.com/@seijiozawa_official
FaceBook https://www.facebook.com/seijiozawaofficial/
Instagram https://www.instagram.com/seijiozawa_official/