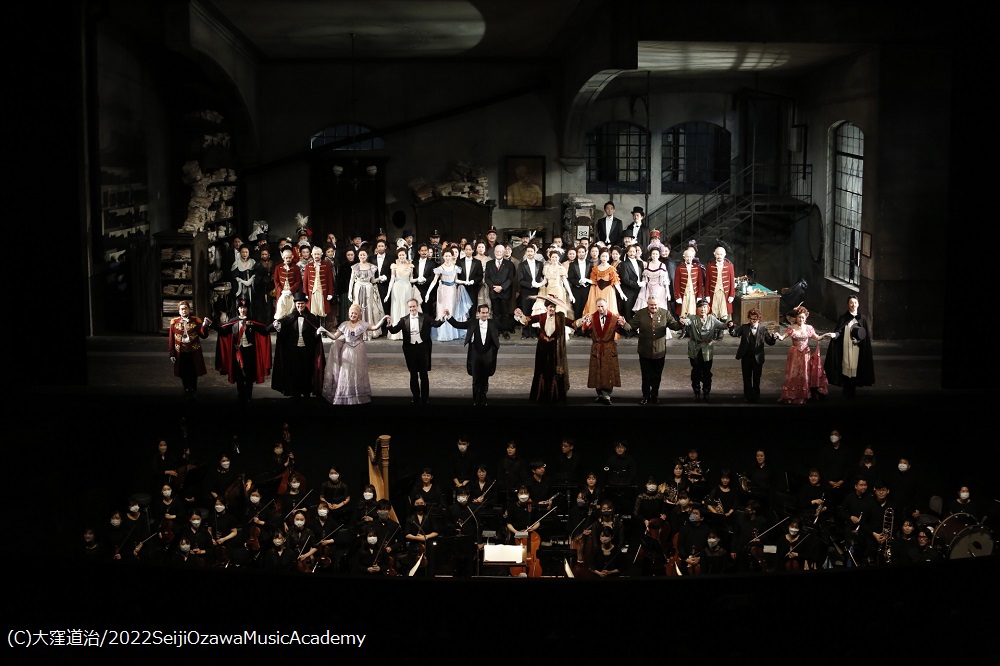 Opera Project XVIII Die Fledermaus closes in grand style
Held for the first time in three years, the Seiji Ozawa Music Academy Opera Project XVIII production of the Johann Strauss II operetta, Die Fledermaus, closed its curtains to resounding applause.
The opera project was driven to cancellation in 2020 and 2021 from the impact of COVID-19. Among the orchestra members chosen by audition, many had passed them three years ago and were waiting anxiously to perform. The project was also eagerly awaited by singers coming from abroad, chorus members, and all staff members, and now after four performances, the curtains have closed. Academy Director Seiji Ozawa also attended both rehearsal and performance and was delighted with their success.
The Seiji Ozawa Music Academy has been active since 2000, rooted in the mission of Seiji Ozawa to educate young musicians through opera. Young players receive top-level instruction from coaches who are mainly Saito Kinen Orchestra members and rapidly blossom over the course of about a month. Japanese cover singers and chorus members also gain unique experience by rehearsing intensely again and again with illustrious singers, directors, and vocal coaches from the West. While the number of rehearsals with the orchestra is exponentially higher than standard productions, the top-class singers participate with pleasure, saying that it is a wonderful learning experience for themselves as well.
In the words of a coach, "Techniques can be taught person to person, but culture cannot be taught without a 'setting'." COVID-19 indeed confiscated this "setting" from us. The Seiji Ozawa Music Academy creates opera, which is a composite art woven with music, art, and literature, and is an educational setting for the orchestra, singers, and staff. As Director Ozawa always says, it is music that can instantly connect people across borders and politics. We are grateful that the Seiji Ozawa Music Academy was able to return in its true form of presenting operas with the support of Rohm Music Foundation. We also wish to sincerely thank the audience who came to watch.
Following Die Fledermaus, the Seiji Ozawa Music Academy in 2023 will perform the classic masterpiece La Bohème that is packed with Puccini's famous music and will have stage sets and costumes that are being newly designed for this production. Information about orchestra auditions and appearing performers will be updated when ready on the official website. We promise that the Seiji Ozawa Music Academy next year will be just as exciting!