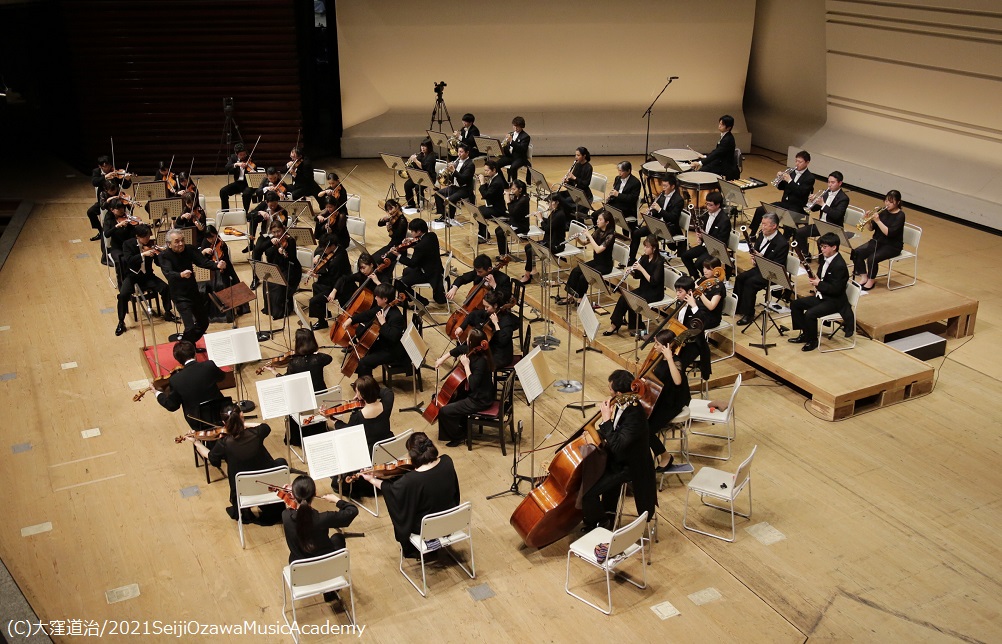 The joy of playing and listening to the live music. Audience sent the Academy Orchestra a big applause.
Seiji Ozawa Music Academy Special Concert 2021 closed with a round of applause from the audience at Tokyo Bunka Kaikan on March 23rd (tue).
Some alumni said after rehearsals that they could see the Director Seiji Ozawa through conductor Fumiyaki Miyamoto. Miyamoto was not only taught by Ozawa how to conduct, but also has been working with him as orchestra player and also as a teacher at the Academy. On the night of 23rd, the audience also must have seen Ozawa in Miyamoto's passionate yet delicate conduct.
For the first time, the Seiji Ozawa Music Academy welcomed the alumni to the orchestra. 27 students, 18 alumni, 7 teachers performed together on a stage. After 6 days of intense rehearsals, students must have learn a lot, probably more than they could digest now. However, we believe the experience they had at the Academy will give them a power and a big push to their next challenge. The alumni who experienced the Academy years ago and now making their ways as great musicians are the living proof, and they have great teachers who support them.
It was the first time in 2 years that the Academy could give a live performance in front of an audience. As the Director Ozawa says, "I want to bring the live music". The students, teachers, alumni, and staffs felt deeply to his message, and we believe our joy of bringing live music reached to the audience with sound. Thank you all for watching, we hope you enjoyed our concert!
The stream is available for watch until April 30th on IDAGIO GLOBAL CONCERT HALL.
Stream Ticket
8 Euro on IDAGIO GLOBAL CONCERT HALL
*Stream available until April 30, 2021.
*You need to log in to IDAGIO to purchase the ticket
IDAGIO GLOBAL CONCERT HALL
https://idag.io/IDAGIO_SeijiOzawaMusicAcademy