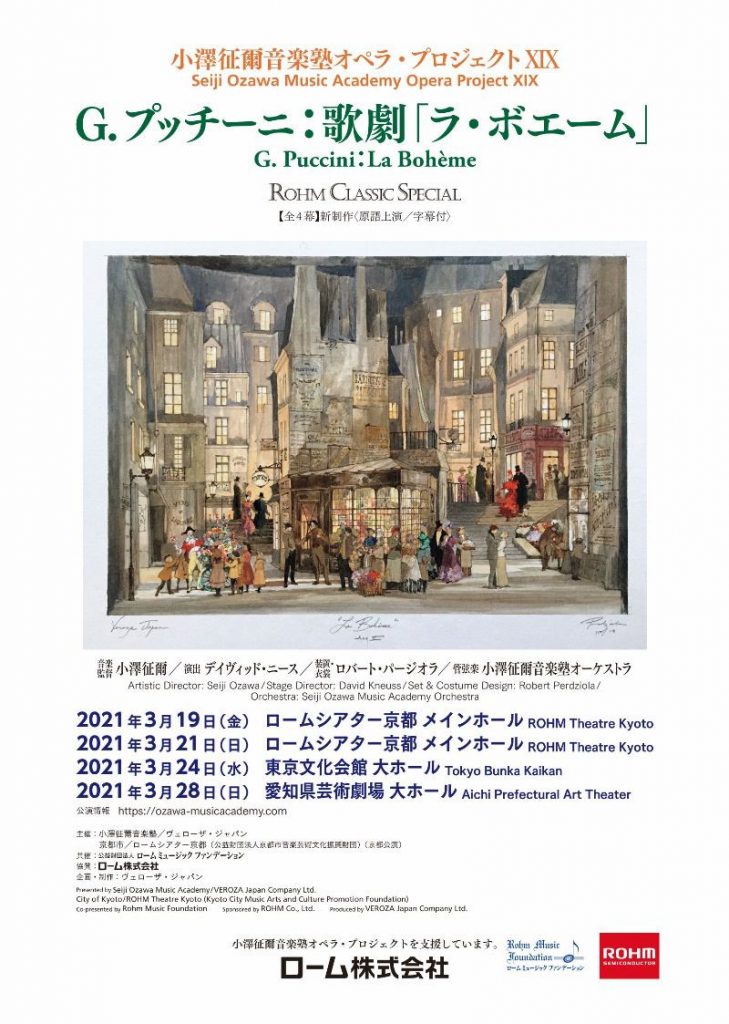 2021 Seiji Ozawa Music Academy Opera Project XIX Program Announcement
We are happy to announce the 2021 Seiji Ozawa Music Academy Opera Project XIX Program. 
As its principle offering the 19th Opera Project will present G.Puccini "La Bohème", which was last performed by the Academy in 2004.
This will be an exciting new production by Stage Director David Kneuss and Set & Costume Designer Robart Perdziola. Mr. Kneuss and Mr. Perdziola both were under the tutelage of the great Franco Zeffirelli. They have created many opera productions together during their long careers.  Mr. Kneuss's delicate and loyal direction to the music, and the authentic set and costume designs are a must see. In addition to opera, Mr. Perdziola is well-known as a world famous ballet set and costume designer. Recently he has created productions for the Bolshoi Ballet, American Ballet Theater and Finnish National Ballet.
Our new production of "La Bohème" will bring out the best of one of Puccini's most popular operas. Anticipate the Academy's usual high standard of international singers and young aspiring musicians selected by auditions throughout Asia.
Conductor, casts and tickets information will be announced shortly.
<<Program>>
Seiji Ozawa Music Academy Opera Project XIX
G. Puccinni : La Bohème
ROHM CLASSIC SPECIAL
New Production《Opera in 4 Acts in Italian with Japanese Titles》
March 19 (Fri), 2021     ROHM Theatre Kyoto Main Hall
March 21 (Sun), 2021   ROHM Theatre Kyoto Main Hall
March 24 (Wed), 2021  Tokyo Bunka Kaikan
March 28 (Sun), 2021   Aichi Prefectural Art Theater
Artistic Director: Seiji Ozawa
Director: David Kneuss
Set Designer & Costume Designer: Robert Perdziola
Orchestra: Seiji Ozawa Music Academy Orchestra